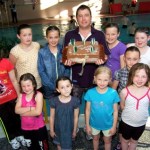 Northallerton Amateur Swimming Club was formed in 1961 following the tragic drowning of a young child. The aims of the Swimming Club were to provide and improve the swimming abilities of the town's young people.
The Swimming Club started training at the now demolished Memorial Baths on Bullamoor Road, moving its training sessions to Northallerton Leisure Centre (formerly Hambleton Leisure Centre) after its construction at Stonecross in 1990. When the Swimming Club relocated, its competitive dimension took off, with swimmers now being offered the opportunity to compete at a variety of levels.
The council run centre are very supportive of the Swimming Club's work within the local community and aid the Club by advertising through the centre. Further information about Northallerton Leisure Centre can be found on their website. The Club train and compete as part of the Moors Swim Squad, more information on the squad can be found on their website.
At the heart of our Club is its committee of volunteers. It provides the backbone and organises galas and club championships, manages finances, liaises with various organisations and provides continuous financial support to the Club by organising fundraising events. More information on the committee can be found by clicking here. In 2011, the Club celebrated its 50th anniversary.
Northallerton ASC (NASC) has a reputation for the great development of its swimmers in a very friendly and supportive environment. The Club's objectives, apart from promoting the sport of swimming, is to help maximise the potential of every individual.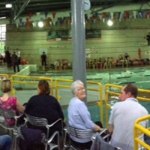 'Success is for the long term benefits and rewards, therefore it is essential that athletes progress according to their ability and age taking into consideration that their training must be both enjoyable and purposeful'
This is achieved through the dedication and expertise of our coaching teams and the support by the poolside volunteers. The help of our supporters and the work of the committee provides the Club with a continual source of development and support. NASC is a competitive family orientated Club, this means that members are expected to be committed to develop themselves, both in terms of training and attitude and take part in fixtures and social events.
Parent Information
View some more information on being a parent at our Swimming Club
The Executive Committee
The committee runs the Club in a way that follows the Club Constitution. This constitution is approved annually as part of our Swim Mark return
The committee consists of a volunteer group of parents and supporters, elected each year at the Annual General Meeting (AGM). The committee's duties are very wide ranging. Finances, membership, pool hire, arranging competitions, discipline, social activities, coaching matters and matters involving the Swim England (formerly the ASA) are just a few.
As a new member you will almost certainly be first in contact with our Membership Secretary or Club Chairman, however over a period of time you will meet all committee members. If you have any ideas or proposals for improving the Club in any way, please contact any committee member.
Accreditations
NASC is an accredited Swim England club with Club Mark, Swim Mark and Tri Mark status. These accreditations demonstrate our compliance on governance, health and safety and the general operations of the Club.
Details of our governance documentation can be found on our documents page.
Costs
The cost of pool hire, coaching staff, administration, coaches to club galas, cups and medals are met from the income of the Club; this is largely derived from the Annual Fee and payment for swimming sessions. The latter are paid monthly in advance, except for the older swimmers who pay on a 'Pay as you go' system. The rates are calculated on a 48-week basis to allow for holidays and pool closure.
The cost of membership is dependent on the number of swimmers in the family and any changes deemed necessary are made at the AGM.
A breakdown of current subscriptions can be found online here.
Safe Guarding & Child Protection
It is a Swim England requirement that all Club coaches, teachers, poolside helpers and persons involved with Club members during any Club activity are aware of the Swim England Child Protection Policy, which is endorsed by the NSPCC. This form is available from the Club's Honorary Secretary. If you are willing to help at training, galas or competitions then you will need to complete a Registration form and a DBS Disclosure form both of which are available from the Club Welfare Officer.
Full details of our procedures and arrangements can be found on our documents page.
Membership and Medical Details
NASC operate a GDPR compliant system with no paperwork. This is to ensure that all aspects of data protection can be maintained.
Any member who has a diagnosed medical condition or who is on prescribed medication must notify their Coach or teacher prior to training or competing in an event, therefore any needs they may have can be notified and their safety is increased.
Please log all details on our Club membership system.
Social Events
The Club holds barbecues, presentation evenings and other non-swimming events outside of swimming hours.
Find out more about our social events here.